Hey there! Call me G!
Hey! I'm
Sensei G Frost
, and I'm an admin now! Don't cross me... just kidding, you can cross me... unless?
Anyway, on this wiki I post about some of the characters and stories in my Ninjago-esc story: Legends of Ogaji. If you are interested, a good page to start is this one. If you want more, check out everything I've written about Ogaji on my own Wikia! Here is the link: Legends of Ogaji Wikia
Follow my social media!
Instagram: @g_frost.productions
Twitter: @GFrost432
What do I do here
Admining!
I'm an admin! So I do admin-like stuff! If you're disrespectful, annoying, or give me the wrong look you're outta here! (jk, just be nice...)
I'm also ANTI-STUBS!! If your page is a stub (so short I don't even need to scroll!) then I beg of you please expand it! I might work on a way to enforce people to stop making stubs. It's just annoying!
Stub pages that are too short and unedited for too long may also be deleted... you've been warned.
Writing!
My main story, Legends of Ogaji has been in the writing since 2011, but only recently I have been adding full-length episodes to this wiki for full enjoyment.
Please check out the second season: Season 2: Spinjitzu Club, and the first episode: Heroes for Hire!
My other favorite pages of mine on here are:
Go check them out!!!!
Trivia
I am 17 years old and I am a junior in high school.
My favorite color is green.
I love to listen to music
I love to write and draw, mostly for my fanfictions for things I like (Pokémon, Zelda, Ninjago, JoJo)
I love watching tv

My favorite shows are The Office, My Hero Academia, Ninjago, Parks and Recreation, The Haunting of Hill House, F.R.I.E.N.D.S., JoJo's Bizarre Adventures, and Schitt's Creek.
My favorite games are Undertale, Pokémon, The Legend of Zelda, Kirby, Mega Man, and Minecraft.
My favorite band is Neon Trees.
My favorite books are the City of Ember series, and Harry Potter
My favorite people are John Mulaney, and Alison Brie
My favorite YouTube channels are GameGrumps, and David Dobrik.
Gallery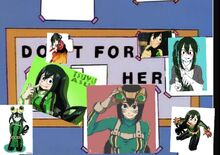 Community content is available under
CC-BY-SA
unless otherwise noted.