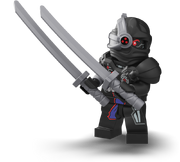 General Cryptor is the right hand man of Evil Shadow Ninja (Yamato Kriosos) and his the only Ninjroid character known with Zane and Pixal. he is loyal to Yamato himself and will not fail.
He was created by Cyrus Borg and Jack Spicer to be one of the Original Doom Drones with the other Ninjroids but a later model was made and the Ninjroids moved to adopton to Yamato Kriosos and his Paternal Grandfather.
Yamato and Cryptor Became members of the Doom Clan themselves and became pure evil. Later they Joined Lord Business in his robot army
He has Shadow Powers like Yamato
He can use lazer eyes and shoot out of his arms.
Community content is available under
CC-BY-SA
unless otherwise noted.